Roof Access Hatches
Roof Hatch Options
Stainless Steel Hardware
For Installation in highly corrosive environment, roof hatches are available with stainless steel hardware.
Motorized
Roof hatches can be equipped with motor operators for opening and closing the covers from a remote 3-position selector switch.
Selecting the Proper Size Hatch
The angle at which a person ascends to the roof determines the size hatch required for convenient use. If a ladder is used, the hatch may be rather small since the person comes straight up to the roof. As the angle of ascent decreases, the hatch must be larger to prevent head-bumping accidents. Recommended minimum sizes for various types of roof access are shown above. If movement of bulky materials through the hatch is anticipated, double-leaf hatches with openings up to 66 sq. ft. or larger are available. Recent changes to the International Building Code require 16 sq. ft openings as the standard for various structures.
Note-the second dimension on hatch sizes denotes the length on the hinge side.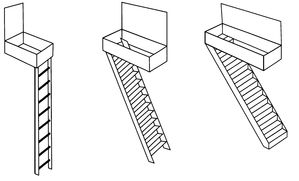 Overall Product Benefits
Milcor brings over 105 years of experience in the manufacturing of a broad range of products.
Easy Complete Opening
Milcor hatch covers open easily to 90 degrees. Operation is assisted by enclosed torsion bar or torsion coil spring operators. Automatic hold-open arms keep doors securely open.
Unobstructed Opening
The clear hatch opening is virtually unobstructed, with only a narrow hold-open arm at one corner and the torsion bar or spring mounted out of the way in the cover or frame.
Complete Seal
An extruded EPDM gasket is adhered to the units, providing a barrier to weather penetration and drafts. Latching devices with inside and outside handles hold hatches tightly closed.
Choice of Materials
Hatches are available in several materials, including galvanized steel, aluminum, aluminum cover/galvanized steel curb or stainless steel. Galvanized Steel is finished with a White Powder Coat or a Cool Eco White water-based paint.
Thermal Efficiencies
Hatch covers are insulated to keep heat in during winter and to repel the sun's heat in summer. M Models feature composite-design cover construction for insulating efficiency. The rigid polystyrene foam insulation in the covers provides U-factors ranging from 0.093 to 0.173. Milcor roof hatches are also available in RB, RC and RD models with fiberglass-insulated covers providing a U-value of 0.26. Curbs are insulated with 1" thick rigid fiberboard insulation.
High Load Capacity
M models composite cover design provides loadcarrying strengths to 70 psf. RB, RD and RC models can carry live loads up to 40 psf.
Complete Selection
Milcor roof hatches are available in single- and double-leaf configurations, depending upon the size of the units. Single-leaf M models are available in 3' x 2'-6" and 3' x 3' with a torsion bar mounted in the cover. RB, RC and most other RD models are available in all sizes with the springs mounted on the frame, offering added strength with larger sizes. Standard size double-leaf units range from 5' x 11' to 8' x 8'.
Special Units
Hatches can be fabricated in special sizes, shapes, or other modifications to meet special needs. Consult the Milcor factory for details.