UFR DW — Fire Rated Access Door
Drywall bead fire rated doors have been increasingly specified in the past few years. Milcor responded by introducing the UFR-DW Style in 2008.
Code approvals the same as with the UFR Style.
Code approved for both walls and ceilings. Underwriters Laboratory Class B, 1-1/2 hour rating meets UBC, IBCO and BOCA codes for two hour rated walls.
Installs easily and works perfectly in any wall, any ceiling, any construction.
Needs no separate springs.
Warnock Hersey acceptance in three-hour rated ceilings.
Self-closing and self-latching door to meet the requirements of fire rated assemblies.
UL Certified 250°temperature rise for true fire safety.
Mineral fiber insulation provides acoustical sound dampening
Sizes 8" x 8" to 48" x 48" (Special sizes available).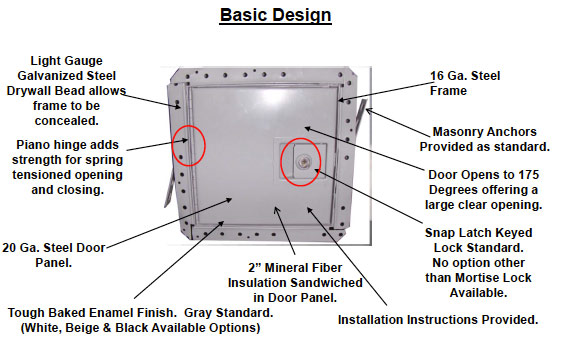 Standard Sizes and Model Number
| Door Size | Masonry Opening | Stud Opening | Product No. | Description | No. Locks | Masonry Anchors | Shipping Weight Lbs. |
| --- | --- | --- | --- | --- | --- | --- | --- |
| 8" x 8" * † | 8 1⁄2" x 8 1⁄2" | 8 3⁄8" x 8 3⁄8" | 3217010 | UFR DW P 8x8 CR W | 1 | 4 | 8 |
| 12" x 12" | 12 1⁄2" x 12 1⁄2" | 12 3⁄8" x 12 3⁄8" | 3217012 | UFR DW P 12x12 CR W | 1 | 4 | 12 |
| 12" x 24" | 12 1⁄2" x 24 1⁄2" | 12 3⁄8" x 24 3⁄8" | 3217020 | UFR-DW P 12x24 CR W | 1 | 4 | 19 |
| 14" x 14" | 14 1⁄2" x 14 1⁄2" | 14 3⁄8" x 14 3⁄8" | 3217014 | UFR DW P 14x14 CR W | 1 | 4 | 15 |
| 16" x 16" | 16 1⁄2" x 16 1⁄2" | 16 3⁄8" x 16 3⁄8" | 3217016 | UFR DW P 16x16 CR W | 1 | 4 | 17 |
| 18" x 18" | 18 1⁄2" x 18 1⁄2" | 18 3⁄8" x 18 3⁄8" | 3217018 | UFR DW P 18x18 CR W | 1 | 4 | 21 |
| 22" x 30" | 22 1⁄2" x 30 1⁄2" | 22 3⁄8" x 30 3⁄8" | 3217022 | UFR DW P 22x30 CR W | 1 | 4 | 35 |
| 22" x 36" | 22 1⁄2" x 36 1⁄2" | 22 3⁄8" x 36 3⁄8" | 3217027 | UFR DW P 22x36 CR W | 1 | 4 | 40 |
| 24" x 24" | 24 1⁄2" x 24 1⁄2" | 24 3⁄8" x 24 3⁄8" | 3217024 | UFR DW P 24x24 CR W | 1 | 4 | 32 |
| 24" x 30" | 24 1⁄2" x 30 1⁄2" | 24 3⁄8" x 30 3⁄8" | 3217023 | UFR DW P 24x30 CR W | 1 | 4 | 38 |
| 24" x 36" | 24 1⁄2" x 36 1⁄2" | 24 3⁄8" x 36 3⁄8" | 3217028 | UFR DW P 24x36 CR W | 1 | 4 | 42 |
| 24" x 48" * | 24 1⁄2" x 48 1⁄2" | 24 3⁄8" x 48 3⁄8" | 3217031 | UFR DW P 24x48 CR W | 2 | 6 | 50 |
| 30" x 30" * | 30 1⁄2" x 30 1⁄2" | 30 3⁄8" x 30 3⁄8" | 3217030 | UFR DW P 30x30 CR W | 1 | 4 | 42 |
| 32" x 32" * | 32 1⁄2" x 32 1⁄2" | 32 3⁄8" x 32 3⁄8" | 3217032 | UFR DW P 32x32 CR W | 1 | 4 | 45 |
| 36" x 36" * | 36 1⁄2" x 36 1⁄2" | 36 3⁄8" x 36 3⁄8" | 3217036 | UFR DW P 36x36 CR W | 1 | 4 | 47 |
| 36" x 48" * | 36 1⁄2" x 48 1⁄2" | 36 3⁄8" x 48 3⁄8" | 3217038 | UFR DW P 36x48 CR W | 2 | 6 | 70 |
| 48" x 48" * | 48 1⁄2" x 48 1⁄2" | 48 3⁄8" x 48 3⁄8" | 3217048 | UFR DW P 48x48 CR W | 2 | 8 | 88 |
*Wall rating only
†Not available with Mortise cylinder
Note: Stainless steel not available with Mortise cylinder